Mixed response to Poots' badger cull TB strategy
A proposal to cull badgers to combat bovine tuberculosis  in Northern Ireland has been greeted with a mixed response.
The disease currently costs the taxpayers around £40m a year and agriculture minister Edwin Poots insisted "doing nothing is not an option".
Launching a DAERA consultation at the Greenmount campus of the College of Agriculture, Food and Rural Enterprise, Mr Poots said spending such large sums of money while the rates were "going up year on year is not sustainable".
He added: "That action will ensure that many cows are not slaughtered because of bTB and that we'll have a healthier wildlife population.
"There are aspects of it that are controversial but if we want to get on top of it and eliminate the disease we have to take radical steps.
"The proposals outlined in the consultation document are based on the experience and evidence from other jurisdictions; and on solid scientific research. I want to hear the views of all our stakeholders. I will then consider the responses and weigh those up against the evidence and information available, only then will I make a final decision on the way forward.
"To eradicate TB, all factors which contribute to the spread and maintenance of the disease in the environment must be addressed through a holistic approach. I know that wildlife, and badgers in particular, are a significant factor in the maintenance of bTB in cattle.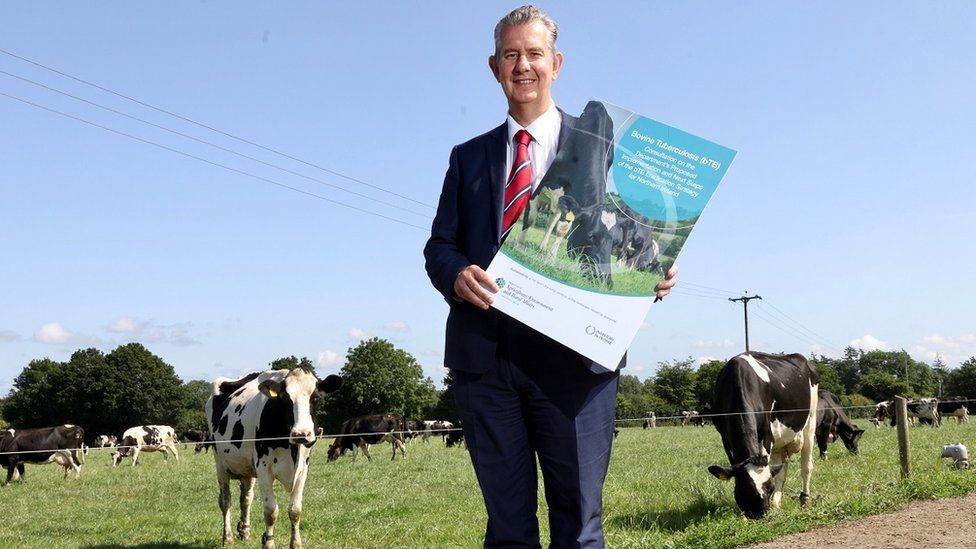 "In the consultation document, therefore, I am proposing a wildlife intervention strategy to address this. It is essential that the overall bTB infection load in badgers is reduced, but once this has been achieved it is my intention to move as quickly as possible to a vaccination-only approach. There is an urgent need to take action to ensure we realise the potential of both a healthy cattle and wildlife population in Northern Ireland "
In the consultation document, the Department of Agriculture, Environment and Rural Affairs (Daera) said it accepted that some form of "wildlife intervention" was needed to break the cycle of infection, outlining how a badger cull in areas with a high rates of bTB would offer the most immediate beneficial impact.
Daera's preferred option is a non-selective badger cull using controlled shooting of wild badgers delivered and paid for by farmer-led companies.
'Indiscriminate cull'
The new TB strategy also proposes more testing and monitoring as well as no longer paying farmers 100% of the value of animals which have to be destroyed; instead reducing this to 75% with a cap on compensation set at £5,000 for each animal.
Ulster Farmer's Union president Victor Chestnutt said his organisation had been calling for Daera to "stop dragging its heels" on Bovine TB for "more than a generation", adding: "It is not enough to have an approach to address TB in cattle and have no strategy to tackle the infection wherever it is in the environment."
However, Brendan Mullan, chief executive of the Ulster Society for the Prevention of Cruelty to Animals insisted it had been shown eight out of 10 badgers are healthy with justification "for an indiscriminate cull".